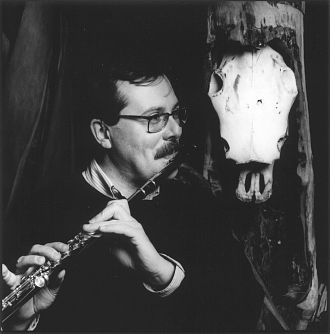 Photo: Wolfgang Osterheld
Carlo Jans
who was born in 1963, began flute lessons at seven and violin lessons at twelve. On the completion of his training in Luxembourg, he continued his studies under Jacques Mule at the Conservatoire National de Nancy when he was barely fifteen. He enrolled as a student under André Isselee at the Conservatoire Royal de Liège in 1982 (Diplôme Supérieur avec Distinction, 1984) and completed a soloist's diploma with high honors at the Maastricht Music Academy in 1985. Interested in learning other flute methods, he went on to receive instruction from Raymond Guiot and was honored with the Prix Supérieur de la Ville de Paris in 1986. Master courses with Aurèle Nicolet, Peter Lukas Graf, and Alain Marion followed. He completed a postgraduate program at the Cologne Academy of Music (artist's diploma) from 1987 to 1989. Always open to new musical horizons, Jans studied conducting under Jan Stulen and Jean-Philippe Rieu at the Royal Academy of Music in Maastricht (conducting diploma with honors) and took master classes with the conductors Kurt Redel and Werner Tharichen.
Since 1984 Carlo Jans has directed classes in flute and chamber music at the Conservatoire de Luxembourg. In 1987 he founded a master-class program, the Forum International pour Flûte et Piano de Diekirch/Luxembourg.
Jans is not only an educator but also pursues an active career as a flutist and a conductor. He has been invited to perform as a soloist with the Philharmonic Orchestra of Luxembourg, Sonderjyland Symphony Orchestra, Orchestre de Chambre d'Auvergne, Latvian Philharmonic Chamber Orchestra, Prague Radio Symphony Orchestra, and Orquestra Nacional do Porto. His numerous CD recordings have earned him outstanding reviews in the international press and awards such as the Grand Prix du Disque for his complete recording of the chamber music of Manuel Rosenthal.

Carlo Jans
1963 geboren, erstes Flötenstudium mit 7 Jahren, Violinunterricht mit 12 Jahren. Nach abgeschlossenem Unterricht in Luxemburg studiert er weiter, knapp 15 Jahre alt, unter der Leitung von Jacques Mule am Conservatoire National de Nancy. 1982 ist er bei André Isselee am Conservatoire Royal de Liège eingeschrieben (Diplôme Supérieur avec distinction 1984). 1985 folgt ein Solisten-Diplom mit großer Auszeichnung an der Musikhochschule Maastricht.
Darauf bedacht, andere Flötenschulen kennenzulernen, nimmt er Unterricht bei Raymond Guiot und wird 1986 mit dem "Prix Supérieur de la Ville de Paris" ausgezeichnet. Zusätzlich folgen Meisterkurse mit Aurèle Nicolet, Peter Lukas Graf und Alain Marion. Bei Andras Adorjan absolviert er von 1987 bis 1989 ein Aufbaustudium an der Staatlichen Musikhochschule Köln (Künstlerische Abschlußprüfung).
Immer anderen musikalischen Horizonten geöffnet, studiert er Dirigieren hei Jan Stulen und Jean-Philippe Rieu an der Königlichen Musikhochschule Maastricht (Dirigierdiplom mit Auszeichnung). Meisterkurse mit den Dirigenten Kurt Redel und Werner Tharichen.
Seit 1984 leitet Carlo Jans eine Flöten- und Kammermusikklasse am Conservatoire de Luxembourg. 1987 gründet Carlo Jans die Meisterkurse "Forum International pour flûte et piano de Diekirch/Luxembourg".
Neben seiner Lehrtätigkeit führt Carlo Jans eine aktive Flötisten- und Dirigentenkarriere. So ist er als Solist bei dem Philharmonischen Orchester Luxemburg, dem Sonderjyland Sinfonieorchester, dem Orchestre de Chambre d'Auvergne, dem Latvian Philharmonic Chamber Orchestra, dem Prague Radio Symphony Orchestra und dem Orchestre National do Porto eingeladen. Seine zahlreichen CD-Aufnahmen haben ihm in der internationalen Presse die besten Kritiken eingebracht, u.a. ein "Grand Prix du Disque" für die Gesamtaufnahme der Kammermusik von Manuel Rosenthal.

Carlo Jans
commence l'étude de la flûte à l'âge de 7 ans, celle du violon à 12 ans. Après ses études aux Conservatoires de Luxembourg, Nancy, de Liège, il travaille sous la direction du célèbre flûtiste Andras Adorjan à la Musikhochschule Köln.
Très important pour lui fut le travail, en tant qu'élève privé, avec le grand maître Aurèle Nicolet.
Cours de perfectionnement avec Alain Marion et Peter–Lukas Graf.
Depuis 1984 Carlo Jans enseigne la flûte au Conservatoire de Luxembourg.
A côté de son travail pédagogique, Carlo Jans mène une vie de soliste et de chef d'orchestre très active. Il s'est produit en tant que soliste avec les orchestres de RTL, l'orchestre de chambre d'Auvergne, le Sonderjyland Symphony Orchestra, le Prague Radio Symphony Orchestra, l'orchestre de chambre Jean-François Paillard, l'Orchestre Philharmonique de Porto, le Schweizer Kammerorchester et le Latvian Philharmonic Chamber Orchestra dont il occupe aussi le poste de chef invité depuis 1997.
Il a participé à des séries de concerts et festivals avec son partenaire pianiste Daniel Blumenthal, a joué en duo avec des flûtistes comme Andràs Adorjan, Maxence Larrieu, Janos Balint, Jean-Claude Gérard ou des musiciens comme Jean-Jacques Kantorow, Gabriel Tacchino, le Zürcher Streichtrio, le Quator Danel ou le Jazz-Trio Claude Bolling.
Sa discographie (Calliope, Pavane Records et Bella Musica), comptant une vingtaine de CDs, lui a rapporté les meilleures critiques dans la presse internationale specialisée, comme par exemple un Grand-Prix du Disque pour l'enregistrement de la musique de chambre de Manuel Rosenthal.